About Us
Who we are
Boogie Babies was established in September 2007 by Stacey Boyne. With a background as a singer/songwriter, musician and popular children's entertainer, she wanted to find a niche for a local class for her friends and babies to enjoy. After extensive research, she created Boogie Babies! With her first child, Micky Joe she started running classes at her St. Albans home and due to the popularitiy of the classes before long had to expand to a local venue and from then onwards a number of venues to keep up with the demand. Stacey has not looked back since and is still entertaining a large number of babies and toddlers each week and spreading the boogie magic to new areas around London and Hertfordshire.
What we do
Boogie Babies is committed to encourage children to learn whilst taking them on a musical journey each week. With many exciting props and a variety of both popular songs and unique compositions, Boogie Babies has become the talk of the town!
We introduce music to children at a very young age as we believe it boosts their learning abilities in a fun and friendly atmosphere. The structure of the classes allows carer and baby to enjoy the sessions whilst also gaining the benefits of social skills and awareness, language development, confidence building and musical appreciation.
Since its launch, Boogie Babies has grown from strength to strength and now, 6 years on, is enjoyed by more than 300 mothers and babies each week, including Celebrity Mum, Emma Bunton with baby Tate!
We encourage babies to join our group from as young as 4 months until pre-school to enjoy the magical fun.
Check Out Boogie Babies in the Press -

click here
Meet the Team
Boogie Stacey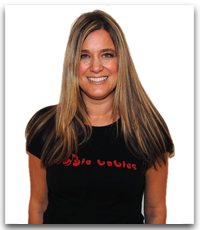 Stacey is the Founder of Boogie Babies. A professional singer/songwriter with a number of record releases with Polydor Records, ZTT (WEA) amongst other labels, Stacey thought up the Boogie Babies concept when her eldest child was only 6 months old. "I wanted to ensure that my baby and other babies were exposed to music at a young age in a fun and friendly environment". Stacey's background is in the music industry, both as a recording artist and PA to top music industry executives. She has enjoyed UK chart success herself, radio and TV experience and performed live in front of 200,000 people "an experience I will never forget". Her songwriting skills are enjoyed weekly by the Boogie Babies clientele "they are the best and most responsive audience". Stacey's mix of creativity and business acumen has helped develop the Boogie brand to the success story it is today!
Boogie Sarah
Sarah, who attend the classes with her 2 children, attended the Margaret Howard Theatre School and has appeared in many theatre productions including West Side Story and Annie. Sarah who oozes personality and confidence has recently returned to the Boogie Babies team after a short absence and she brings a wonderful energy to the role and a beautiful singing voice. "It is such a privilege to be part of the baby's first experience of music and singing in a social environment"
Boogie Georgie
Georgie is the latest addition to the Boogie Babies team bringing with her a vast amount of experience on stage and with young kids. Georgie graduated From Guildford School Of Acting with a BA Hons In Musical Theatre and since graduating has appeared in a number of West End shows. She has appeared as Cinderella in 'Cinderella Boom Or Bust' (Theatre Royal Drury Lane). Alice In 'Alice in Wonderland' (UK Tour), Chitty Chitty Bang Bang (London Palladium) and was a vocalist in 'West End Men' (Vaudeville theatre London). Georgie also teaches Lamda, Drama, Dance, private singing lessons and Musical Theatre.
Georgie is extremely excited to be part of the Boogie Babies team and we are extremely excited to welcome her on board!
Boogie Beverley
Beverley is our busy bookings co-ordinator.
Her background working as an administrator/PA for many businesses including music publishers and EMI records ensures the Boogie Babies office has the best administration support.
Her passion and knowledge of music along with her songwriting skills helps to ensure Boogie Babies continued success.